Despite my lack of posting, I really have been pretty busy. I started my first dress from a real vintage pattern earlier this year.
Quite some time ago I picked up the really pretty pattern off etsy ( I believe) . Last summer I was able to go to Terrace and bought some rather bright tourquise fabric. I really wanted this beautiful navy wool blend, but it was quite pricy and I was concerned about cutting into a really expensive fabric with a pattern I had never made before.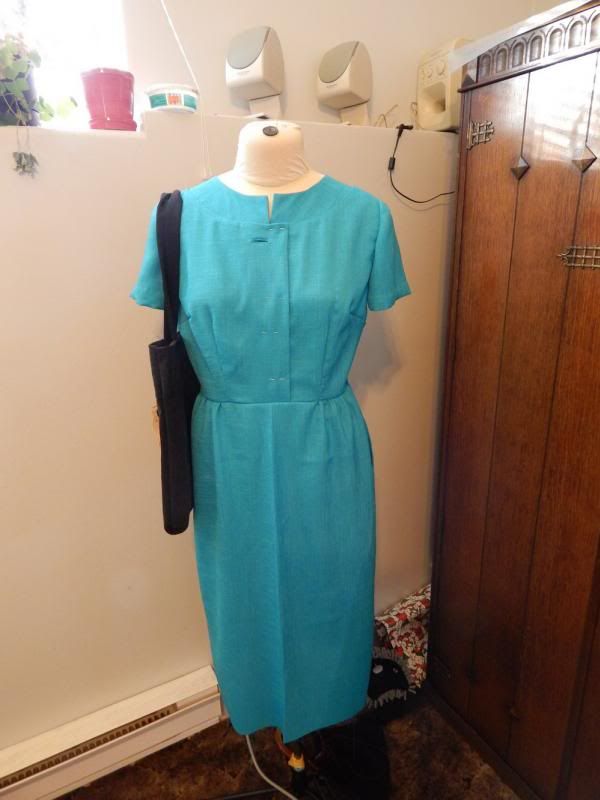 I did my now usual waistline adjustments and had to add a couple inches to the waistline, but in the end it seems to be fitting pretty well.
As you can see it is not completely finished. I am a little scared of doing the lapped zipper on the side. I also need to sew on the button on the front and add the snaps underneath the bust to secure the top opening along with the hem.
So at the moment it is waiting for me to feel brave and get the zipper done. I also want to either make or find a good belt to go around the waist. It really needs something to break up all that blue.
I have also been playing around with bags again. I recently came across some pretty vintage photographs at a local antique store. I have been scanning and printing them onto transfer paper so I can use them to decorate things.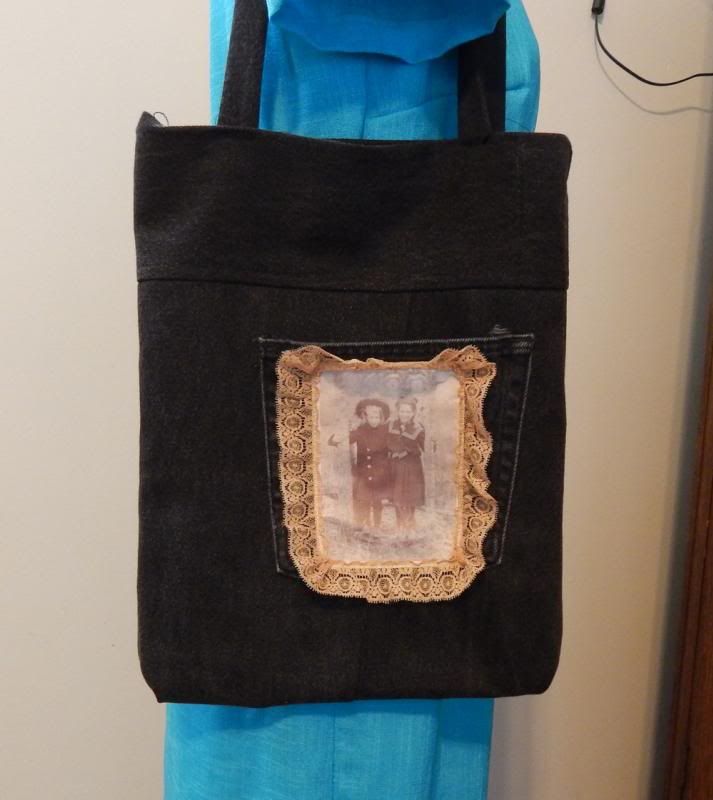 I picked this photo to try since I thought it was really cute and reminded me of time spent with my best friend in elementary school.
The old clothing is also really neat to look at.
I pulled the lace off a shirt which I tried to tea dye and alter, but it was a complete failure. The lace was still pretty though so it was relocated to this bag. The rest is made out of another pair of hubby's old jeans which I cut and sewed the jean fabric into the bag and relocated the pocket as well. It still needs to be lined but other than that it is pretty much finished I think.
The flea market here in Rupert has been providing some really great stuff recently. I was able to buy a whole pile of beautiful vintage shell buttons which I am going to use to decorate items. I was also able to get some old postage stamps which my friend Ayase is going to show me how to make pendants out of them.
I also got a couple really pretty old broaches and clasps from a couple ladies who were clearing out their attics. Very nice.